No, You Are Not As Thin As You Think. Here's Why.
Maybe you're not gettin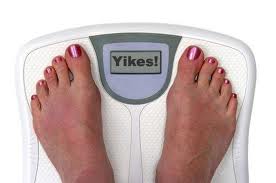 g thinner. Maybe you're just better at fooling yourself.  That's the scary suggestion of research conducted at the University of Cork, where a recent experiment found that the gap between what overweight people weigh and what they think they weigh has gone up a few sizes. The Los Angeles Times reports that researchers at University College of Cork examined height and weight data for Irish adults over a nine-year period. In three surveys, men and women were asked to estimate their height and weight, after which everyone was weighed. The researchers found that the rate of accuracy of obese people's self-estimation of BMI in a 1998 survey was 80 percent. By 2002, it had fallen to 64 percent and by 2009 it had dropped to 53 percent. And no, reality is not in the eye of the beholder. Read more from the Los Angeles Times.