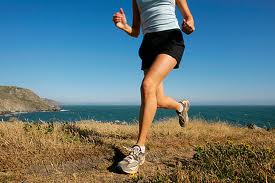 Itchy eyes and sniffles no doubt seem insignificant to someone who's pushing her body to run 26 miles, but researchers at Northumbria University are convinced that it's a mistake for marathoners to ignore such symptoms. Why? Because, they warn, allergies that manifest themselves in itchy eyes and runny noses can lead to exercise induced asthma and inflammations of the airways. ScienceDaily reports on research involving 150 runners in the London marathon, 61 percent of whom reported nose and eye allergy symptoms. Blood tests revealed that 35 percent of those runners were suffering from an allergy and 14 percent were allergic to tree pollen. Only 8 percent were taking allergy medication. That, the researchers say, is a disturbingly low number. For runners who suspect that they have allergies, the researchers have the following advice:
Consider using a corticosteroid nasal spray or a non-sedating antihistamine as a preventative measure. But be aware that it can take up to two weeks for the treatment to work fully (and avoid taking non-sedating antihistamines around competitions).
Know your training and competition environment. Find out about typical pollen counts for the location and time of year. Tree pollen for example is usually released in the spring, grass pollen in late spring and early summer, and weed pollens in late summer into autumn.
Try to minimize exposure to pollens by running when the pollen count is low (cooler and cloudy days are associated with lower pollen counts compared to warmer, drier days). Shower and wash your hair after outside exercise to get rid of residual pollen. Change your clothing and rinse your nose with salt-water washes after exercise.
Remember that asthmatic athletes take medication regularly and according to instruction. Talk to your GP about whether you might need additional medication or to change your medication if you are training or competing in high pollen or in polluted environments.