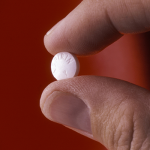 While common knowledge has it that an aspirin a day may stave off heart problems, the FDA would like you to know that they disagree. The federal agency has released  a consumer update warning that while there is some scientific evidence that an aspirin a day may help people who have already had heart trouble, there is no compelling evidence that it's good for the rest of us.
"Since the 1990s, clinical data have shown that in people who have experienced a heart attack, stroke or who have a disease of the blood vessels in the heart, a daily low dose of aspirin can help prevent a reoccurrence," says Robert Temple, M.D., deputy director for clinical science at the FDA.  (A dose ranges from the 80 milligrams (mg) in a low-dose tablet to the 325 mg in a regular strength tablet.) "This use is known as "secondary prevention."
"However," the consumer update warns, "after carefully examining scientific data from major studies, FDA has concluded that the data do not support the use of aspirin as a preventive medication by people who have not had a heart attack, stroke or cardiovascular problems, a use that is called "primary prevention." In such people, the benefit has not been established but risks—such as dangerous bleeding into the brain or stomach—are still present.