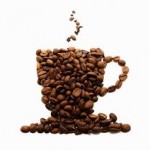 From an interview on Radio Boston, with Murray Carpenter, author of "Caffeinated — How Our Daily Habit Helps, Hurts and Hooks Us."
A Starbucks "grande" (16 ounces) can contain as much caffeine as seven cans of Red Bull.
Most of the caffeine in soda and energy drinks is chemically synthesized in overseas pharmaceutical labs.
The FDA doesn't require bottlers to label how much caffeine is in sodas and energy drinks.
We now drink far less coffee than our grandparents did.
One hundred years ago, the amount of caffeine in a Coke was equivalent to the caffeine levels in a Red Bull today.
More than 10 million pounds of caffeine powder are put into sodas in the U.S. annually.
Monsanto used to make caffeine for Coca-Cola by extracting it from waste tea leaves.
Caffeine blocks a neurotransmitter that tells us we're tired.
Caffeine has performance-enhancing effects and it's legal in nearly all athletic events.
Caffeine decreases certain stages of sleep that make up 20 percent of our sleeping time.