Is Too Much Thinking Bad For Your Body?
Think about this, but not too hard. Intense concentration may harm your physical endurance. Writing in the New York Times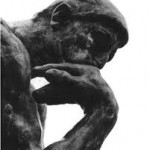 , Gretchen Reynolds cites a study by researchers at the University of Kent in England and the French Institute of Health and Medical Research, known as INSERM. The researchers wired electrodes to the legs of 10 healthy young men, then measured the contractile force of their leg muscles. In one experiment designed to induce mental fatigue, the men watched letters flash by a computer screen for 90 minutes, while they counted every four and punched various keys. In another, they watched a calming video. Tests of leg strength showed that the men's leg muscles tired 13 percent faster after the computer test than after watching the calming video. Read more from Gretchen Reynolds.